LOCAL POLITICS BUSINESS HEALTH SPORTS TECH AFRICA WORLD Apple Replaces iTunes With Three New Apps
Apple on Monday announced the demise of its groundbreaking iTunes platform in favour of three more tailored apps, as it refines its offerings to be a stage for digital music, films, podcasts and more.
iTunes transformed the way people buy and listen to music after its launch in 2001, but is now being phased out, Apple senior vice president of software engineering Craig Federighi said, while helping kick off the technology giant's annual gathering of developers in Silicon Valley.
"The future of iTunes is not one app, it's three," Federighi said.
"Apple Music, Apple Podcasts and Apple TV."
Since the launch of iTunes, lifestyles have shifted to streaming music, video and more from the internet cloud as online data centres and high-bandwidth connections gave rise to on-demand entertainment expectations.
The iTunes software let users manage and listen to music collections as well as buy digital versions of songs.
"There is no reason for iTunes to exist, period," said Creative Strategies analyst Carolina Milanesi.
"If I want music, I have an app. If I want TV, I have the app. That is how people are thinking today."
The transformation of iTunes into three separate apps comes with Apple preparing the international launch of an eponymous TV+ later this year.
The new content will be available on an upgraded Apple TV app, which will be on smart television sets and third-party platforms including Roku and Amazon's Fire TV.
The California company showed off its podcast app on Monday as well, and said that service would be tailored to work independently on its smartwatch.
Some features from iTunes will be melded into the other Apple apps.
It remains to be seen what will become of the iTunes version tailored for Windows-powered computers, or how people will be able to move music libraries they have amassed.
Software innovations and improvements revealed at the opening day of the Worldwide Developers Conference (WWDC) touched the company's entire line-up from wrist-wear to iPhones and Car Play along with smart assistant Siri.
The innovations come as Apple shifts to emphasize digital content and other services to offset a pullback in the once-sizzling smartphone market, and with many news organizations struggling to monetize their online services.
Apple is aiming to leverage its position with about 900 million people worldwide who use at least one of its devices.
Apple sign-in
The packed WWDC audience cheered when executives spoke of improvements that promised to make it easier for one app to work across the array of devices.
Apple is apparently trying to get app makers looking beyond the iPhone to the company's family of hardware with a message of "better together," Milanesi reasoned.
"It is about the breadth of those devices together," the analyst said.
As high-end Android-powered phones made by Google become more attractive to iPhone users, having apps that extend experiences across Apple Watch, iPad, TV, and Mac help keep them loyal to the brand, according to Milanesi.
"Not only are you driving more engagement with Apple, but you are also lowering the risk of having users go elsewhere," she said.
Next-generation iOS software powering iPhones coming out later this year was reworked "top to bottom" to be faster, according to Federighi.
Apple chief Tim Cook and other executives focused on privacy features of improved software across the range of devices.
Protections being added to iOS mobile operating software included the option of giving apps permission to access location just once, instead of all the time, and letting users know when apps are tracking their whereabouts.
A new "Sign In With Apple" feature will be launched as an alternative to logging in using Facebook or Google accounts.
"This can be convenient, but it can also come at the cost of your privacy," Federighi said.
"These log-ins can be used to track you."
The iOS log-in feature will let people sign into apps using AppleID information, but provides the option of masking user names or email addresses with randomly generated information.
"The entire experience is meant to help you have control over your data," Federighi said, to applause.
"A lot of love for random addresses here."
Apple also announced changes that will make iPads easier to use as auxiliary screens for Mac computers and even perform a bit more like laptops themselves with capabilities like multiple windows operating simultaneously.
The company unveiled a new Mac Pro high-performance desktop computer aimed at professionals, with a starting price of $5,999.
Apple previewed its iOS 13 for mobile devices, which includes a "dark mode" display, an upgraded maps application and faster access through its facial recognition sign-on.
Anthony Joshua Is 'Finished' Says Tyson Fury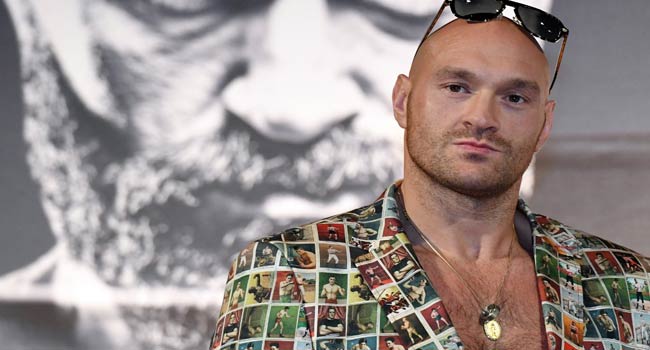 Tyson Fury believes former world champion Anthony Joshua is "finished" after the British heavyweight's shock defeat to Andy Ruiz Jr in New York.
Joshua lost his IBF, WBA and WBO titles on June 1 in one of the biggest upsets in the history of the division.
After the fight, Fury sent a message on Twitter that urged his fellow Briton to "rest up, recover, regroup and come again".
But this week he told BBC Sport: "When a man doesn't want to be there once, he will always do it and it's hard to come back from.
"It's been done many different times by many different fighters. He did it that night and I don't think he will come back from it. Finished. Ask any top trainer who has been around the sport a lifetime. When he got to the ring I saw he didn't want to be there."
Joshua, 29, whose defeat against Ruiz was the first of his career, had previously made Furyan offer to fight.
"Everybody thought that man could beat me," said Fury. "In what world could he ever beat me? What were people seeing?
"I don't know what people were looking at as I don't know in what world he could have beaten me."
Joshua's seventh-round stoppage by Ruiz came as a huge surprise as his opponent had been given barely one month's notice for the fight and weighed in at more than 20 pounds (nine kilograms) heavier than the Briton.
But unbeatenFury, who shed around 10 stone (64 kilograms) in a bid to re-establish himself in the heavyweight division after a battle with mental health and drugs issues, said body shape was no indicator of success.
"Physically Joshua could out-train everyone," said the 30-year-old, who is preparing to fight Germany's Tom Schwarz in Las Vegas on Saturday.
"He would break every heart monitor, has probably worn out every treadmill in the gym, smashes the bag, it's all very unimportant.
"Boxing isn't rocket science and today people are trying to make it a scientist thing. If you can fight you can fight, if you can't you can forget about it."
World Boxing Council heavyweight world champion Deontay Wilder said last month that he had lined up a highly anticipated rematch with Fury, to take place after Wilder's rematch with Luis Ortiz, which will reportedly take place in September.
Wilder andFuryfought to a draw in Los Angeles in December after an epic 12-round battle at the Staples Center.
"If I was a match-fit fighter and some fat man comes off drugs and alcohol and done that to me I'd never look at the sport again," said Fury.
"Does Deontay Wilder have anything to bother me? Nothing at all. I've been hurt 1,000 times but Wilder didn't hurt me once."
DOWNLOAD DAILY INFO MOBILE APP DIRECTLY FROM GOOGLE PLAYSTORE BY CLICKING HERE
I believe that a trusting attitude and a patient attitude go hand in hand. You see, when you let go and learn to trust God, it releases joy in your life. And when you trust God, you're able to be more patient. Patience is not just about waiting for something… it's about how you wait, or your attitude while waiting.
JOYCE MEYER
DOWNLOAD DAILY INFO MOBILE APP DIRECTLY FROM GOOGLE PLAYSTORE BY CLICKING HERE
No matter what has happened to you in the past or what is going on in your life right now, it has no power to keep you from having an amazingly good future if you will walk by faith in God. God loves you! He wants you to live with victory over sin so you can possess His promises for your life today!
JOYCE MEYER
DOWNLOAD DAILY INFO MOBILE APP DIRECTLY FROM GOOGLE PLAYSTORE BY CLICKING HERE
Get more stuff
Subscribe to our mailing list and get interesting stuff and updates to your email inbox.
Thank you for subscribing.
Something went wrong.