Nigeria Eye World Cup Knockouts After South Korea Win
Nigeria's players celebrate after winning the France 2019 Women's World Cup Group A football match between Nigeria and South Korea, on June 12, 2019, at the Alpes Stadium in Grenoble, central-eastern France. Jean-Pierre Clatot / AFP
Nigeria inched towards qualifying for the knockout stages of the Women's World Cup for the first time in 20 years after beating South Korea 2-0 on Wednesday.
A comical 29th-minute own goal from Kim Do-yeon, who somehow hooked a long ball back past onrushing goalkeeper Kim Min-jung, and Asisat Oshoala's neat finish 15 minutes from the end left the South Koreans pointless after their first two games in Group A and put Nigeria level on three with France and Norway ahead of their crunch clash in Nice later on Wednesday.
Thomas Dennerby's Nigeria can now legitimately hope for a place in the last 16 regardless of what happens in their last group match against the tournament-hosting French.
Four third place finishers from the six groups will qualify, meaning three points could well be enough to see the Super Falcons through to the knockout rounds for the first time since 1999, when they reached the quarter-finals in the US.
South Korea meanwhile face an uphill task to go through now as they face a strong Norway side in their final match, after watching Lee Geum-min's strike ruled out for a very tight offside just before the hour mark.
Later, Group B leaders Spain face off against strongly-fancied Germany in Valenciennes, with the two sides locked on three points and aiming to secure qualification with a game to spare.
The Germans are missing star playmaker Dzsenifer Marozsan, who has bee ruled out until least the end of the group stage after breaking her toe during her side's 1-0 win over China on Saturday
Anthony Joshua Is 'Finished' Says Tyson Fury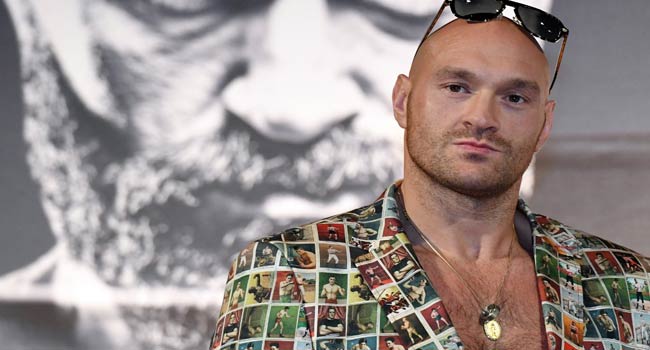 Tyson Fury believes former world champion Anthony Joshua is "finished" after the British heavyweight's shock defeat to Andy Ruiz Jr in New York.
Joshua lost his IBF, WBA and WBO titles on June 1 in one of the biggest upsets in the history of the division.
After the fight, Fury sent a message on Twitter that urged his fellow Briton to "rest up, recover, regroup and come again".
But this week he told BBC Sport: "When a man doesn't want to be there once, he will always do it and it's hard to come back from.
"It's been done many different times by many different fighters. He did it that night and I don't think he will come back from it. Finished. Ask any top trainer who has been around the sport a lifetime. When he got to the ring I saw he didn't want to be there."
Joshua, 29, whose defeat against Ruiz was the first of his career, had previously made Furyan offer to fight.
"Everybody thought that man could beat me," said Fury. "In what world could he ever beat me? What were people seeing?
"I don't know what people were looking at as I don't know in what world he could have beaten me."
Joshua's seventh-round stoppage by Ruiz came as a huge surprise as his opponent had been given barely one month's notice for the fight and weighed in at more than 20 pounds (nine kilograms) heavier than the Briton.
But unbeatenFury, who shed around 10 stone (64 kilograms) in a bid to re-establish himself in the heavyweight division after a battle with mental health and drugs issues, said body shape was no indicator of success.
"Physically Joshua could out-train everyone," said the 30-year-old, who is preparing to fight Germany's Tom Schwarz in Las Vegas on Saturday.
"He would break every heart monitor, has probably worn out every treadmill in the gym, smashes the bag, it's all very unimportant.
"Boxing isn't rocket science and today people are trying to make it a scientist thing. If you can fight you can fight, if you can't you can forget about it."
World Boxing Council heavyweight world champion Deontay Wilder said last month that he had lined up a highly anticipated rematch with Fury, to take place after Wilder's rematch with Luis Ortiz, which will reportedly take place in September.
Wilder andFuryfought to a draw in Los Angeles in December after an epic 12-round battle at the Staples Center.
"If I was a match-fit fighter and some fat man comes off drugs and alcohol and done that to me I'd never look at the sport again," said Fury.
"Does Deontay Wilder have anything to bother me? Nothing at all. I've been hurt 1,000 times but Wilder didn't hurt me once."
DOWNLOAD DAILY INFO MOBILE APP DIRECTLY FROM GOOGLE PLAYSTORE BY CLICKING HERE
I believe that a trusting attitude and a patient attitude go hand in hand. You see, when you let go and learn to trust God, it releases joy in your life. And when you trust God, you're able to be more patient. Patience is not just about waiting for something… it's about how you wait, or your attitude while waiting.
JOYCE MEYER
DOWNLOAD DAILY INFO MOBILE APP DIRECTLY FROM GOOGLE PLAYSTORE BY CLICKING HERE
No matter what has happened to you in the past or what is going on in your life right now, it has no power to keep you from having an amazingly good future if you will walk by faith in God. God loves you! He wants you to live with victory over sin so you can possess His promises for your life today!
JOYCE MEYER
DOWNLOAD DAILY INFO MOBILE APP DIRECTLY FROM GOOGLE PLAYSTORE BY CLICKING HERE
Get more stuff
Subscribe to our mailing list and get interesting stuff and updates to your email inbox.
Thank you for subscribing.
Something went wrong.