Over One Million Cases Of Sexually Transmitted Infections Occur Daily – WHO

The World Health Organization has raised an alarm over the lack of progress on curbing sexually transmitted diseases, while one of its experts warned of complacency as dating apps are spurring sexual activity.
The UN health agency said in a fresh report on Thursday that every day globally there were more than one million new cases of treatable sexually transmitted diseases (STD) or infections (STI).
WHO found that there were more than 376 million new cases of chlamydia, gonorrhoea, trichomoniasis and syphilis registered around the world in 2016 — the latest year for which data is available.
That is basically the same number as WHO reported in its previous study, based on data from 2012.
A WHO expert on sexually transmitted infections, Teodora Wi, separately told journalists there were concerns that condom use may be declining as people have lost their fear of contracting HIV in step with the emergence of available and effective antiviral treatments.
People are "more complacent about protection," she said, adding that this was dangerous at a time when "sex is becoming more accessible (through things like) dating apps".
Peter Salama, WHO's executive director of Universal Health Coverage, said in a statement that "we're seeing a concerning lack of progress in stopping the spread of sexually transmitted infections worldwide".
He called it "a wake-up call" for authorities to ensure that everybody had access to services to prevent and treat STIs.
READ ALSO: Air Pollution Kills 100,000 Indian Kids Every Year
WHO's new report shows that in 2016, some 127 million people between the ages of 15 and 49 were infected with chlamydia globally, while 87 million contracted gonorrhoea, and 6.3 million contracted syphilis.
In addition, some 156 million were infected with trichomoniasis — a parasital disease commonly known as "trich".
'Hidden epidemic'
"On average, approximately one in 25 people globally have at least one of these STIs," the UN health agency said.
But since they seldom display symptoms early on, people often do not know they have been infected and need treatment, allowing the diseases to continue to spread.
"We consider this a hidden epidemic, a silent epidemic, a dangerous epidemic," Melanie Taylor, another WHO expert on sexually transmitted infections and author of the report, told a journalists in a conference call.
If left untreated, STIs can lead to serious and chronic conditions, including neurological and cardiovascular disease, infertility, stillbirths and increased risk of contracting HIV.
Syphilis alone caused some 200,000 stillbirths and newborn deaths in 2016, making one of the leading cause of baby loss globally, second only to malaria, Taylor said.
STIs spread mainly through unprotected sexual contact, but some like chlamydia, gonorrhoea and syphilis can also be transmitted during pregnancy and childbirth.
Given the hidden nature of the epidemic, WHO said it was important for people who are sexually active to get screened for STIs, and especially recommended that pregnant women be systematically screened for syphilis, as well as HIV.
Correct condom use was one of the most effective methods for protecting against STI transmission.
WHO also stressed the importance of comprehensive sexual education and easy access to STI screening as well as treatment.
The UN health agency meanwhile warned that, while all bacterial STIs have until now be easy to treat using antibiotics, drug shortages and growing antimicrobial resistance were threatening those treatments.
Shortages in the global supply of benzathine penicillin has recently made it more complicated to treat syphilis, while increasing resistance to the antibiotics used to treat gonorrhoea "may lead eventually to the disease being impossible to treat", WHO warned.
Anthony Joshua Is 'Finished' Says Tyson Fury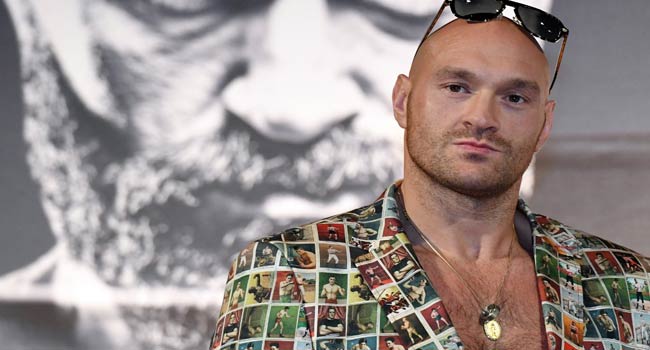 Tyson Fury believes former world champion Anthony Joshua is "finished" after the British heavyweight's shock defeat to Andy Ruiz Jr in New York.
Joshua lost his IBF, WBA and WBO titles on June 1 in one of the biggest upsets in the history of the division.
After the fight, Fury sent a message on Twitter that urged his fellow Briton to "rest up, recover, regroup and come again".
But this week he told BBC Sport: "When a man doesn't want to be there once, he will always do it and it's hard to come back from.
"It's been done many different times by many different fighters. He did it that night and I don't think he will come back from it. Finished. Ask any top trainer who has been around the sport a lifetime. When he got to the ring I saw he didn't want to be there."
Joshua, 29, whose defeat against Ruiz was the first of his career, had previously made Furyan offer to fight.
"Everybody thought that man could beat me," said Fury. "In what world could he ever beat me? What were people seeing?
"I don't know what people were looking at as I don't know in what world he could have beaten me."
Joshua's seventh-round stoppage by Ruiz came as a huge surprise as his opponent had been given barely one month's notice for the fight and weighed in at more than 20 pounds (nine kilograms) heavier than the Briton.
But unbeatenFury, who shed around 10 stone (64 kilograms) in a bid to re-establish himself in the heavyweight division after a battle with mental health and drugs issues, said body shape was no indicator of success.
"Physically Joshua could out-train everyone," said the 30-year-old, who is preparing to fight Germany's Tom Schwarz in Las Vegas on Saturday.
"He would break every heart monitor, has probably worn out every treadmill in the gym, smashes the bag, it's all very unimportant.
"Boxing isn't rocket science and today people are trying to make it a scientist thing. If you can fight you can fight, if you can't you can forget about it."
World Boxing Council heavyweight world champion Deontay Wilder said last month that he had lined up a highly anticipated rematch with Fury, to take place after Wilder's rematch with Luis Ortiz, which will reportedly take place in September.
Wilder andFuryfought to a draw in Los Angeles in December after an epic 12-round battle at the Staples Center.
"If I was a match-fit fighter and some fat man comes off drugs and alcohol and done that to me I'd never look at the sport again," said Fury.
"Does Deontay Wilder have anything to bother me? Nothing at all. I've been hurt 1,000 times but Wilder didn't hurt me once."
DOWNLOAD DAILY INFO MOBILE APP DIRECTLY FROM GOOGLE PLAYSTORE BY CLICKING HERE
I believe that a trusting attitude and a patient attitude go hand in hand. You see, when you let go and learn to trust God, it releases joy in your life. And when you trust God, you're able to be more patient. Patience is not just about waiting for something… it's about how you wait, or your attitude while waiting.
JOYCE MEYER
DOWNLOAD DAILY INFO MOBILE APP DIRECTLY FROM GOOGLE PLAYSTORE BY CLICKING HERE
No matter what has happened to you in the past or what is going on in your life right now, it has no power to keep you from having an amazingly good future if you will walk by faith in God. God loves you! He wants you to live with victory over sin so you can possess His promises for your life today!
JOYCE MEYER
DOWNLOAD DAILY INFO MOBILE APP DIRECTLY FROM GOOGLE PLAYSTORE BY CLICKING HERE
Get more stuff
Subscribe to our mailing list and get interesting stuff and updates to your email inbox.
Thank you for subscribing.
Something went wrong.