Researcher's Experiments With Monkey Offer Clues On Origin Of Language

Green and vervet monkeys live on either side of Africa and their evolutionary paths diverged 3.5 million years ago, and yet the two species share a hard-wired vocabulary when faced with danger, clever experiments have shown.
The new research, published on Monday, sheds light not only on how primates — including humans — respond to threats but also on the building blocks of language itself.
Vervet monkeys in the savannah of East Africa utter three distinct cries depending on whether they spot a leopard, a snake or an eagle, their three main predators.
Fellow monkeys who hear the cries but cannot see the peril react accordingly: the leopard call sends them scurring up a tree, a snake call prompts them to stand motionless on two legs, and the eagle cry makes them scan the sky while seeking shelter.
It's as if a sentinel is shouting, "Freeze, it's a snake!", or "Get off the ground, it's a leopard!"
The discovery thirty years ago of these unique warning cries sparked debate as to whether they were like primitive words, noted Julia Fisher, head of the cognitive ethology laboratory at the German Primate Center in Gottingen, Germany and senior author of a study in Nature Ecology & Evolution.
It also raised the question of where they came from. Did young vervets learn them through imitation, were the cries genetically imprinted?
To deepen their understanding, Fisher and colleagues set up an experiment with a community of green monkeys in Senegal which they have been observing for more than a decade.
Like their distant cousins across the continent, green monkeys also emit specific danger calls for big cats and snakes, and react accordingly.
But because the raptors in their neighbourhood pose no threat, anything like the vervet "eagle call" is simply not in their repertoire.
Even when the scientists tried to scare the green monkey with dummy birds, it didn't work.
"Any attempt to get them to vocalise in response to model eagles failed utterly," said Fisher.
But then she had an idea.
Innate repertoire
"We decided to bring in a drone and fly it over the green monkeys, to expose them to something potentially dangerous in the air that they had never seen before," she explained.
The drone flew at an altitude of about 60 metres (200 feet) over the unsuspecting animals.
Once the monkeys spotted it, the response was immediate: they gave alarm calls and scurried for cover.
Not only was the cry different from the response to leopards or snakes, it was "strikingly similar" to the eagle alarms of East African vervets.
"Despite 3.5 million years of evolutionary divergence, the call structure stayed essentially the same," Fisher noted.
In the vocabulary of evolutionary biologists, in other words, the danger cry was "highly conserved."
The fact that the green monkeys reacted to a drone and not other large birds native to the area suggests a subtle but important distinction, Kurt Hammerschmidt, also from the German Primate Center, told AFP.
"The alarm call is not linked to eagles per se," he said by phone. "It seems to correspond to a broader category: 'things that fly'."
To see what the monkeys might have learned from the drone fly-over, the scientists followed up a few days later with a second experiment.
They hid a loudspeaker near a lone monkey that was looking for food and played back the sound of the drone.
"Upon hearing the sound, the animal looked up and scanned the sky," Fischer said.
Subsequent tests showed that a single exposure to a new threat was enough for the monkeys to know what the sound means, showing a remarkable ability to adapt.
The researchers speculate that the hard-wired monkey calls — and the meaning attached to them — are similar to noises that infant humans make.
"When a child is born, it has the same innate repertoire of pre-verbal sounds such as moaning, laughing and crying," said Hammerschmidt.
Somehow, humans learned to move beyond this built-in vocabulary and produce new sounds associated with new meanings.
But underneath all the layers of culture and learning, certain core responses that fall within the domain of evolutionary psychology remained.
Anthony Joshua Is 'Finished' Says Tyson Fury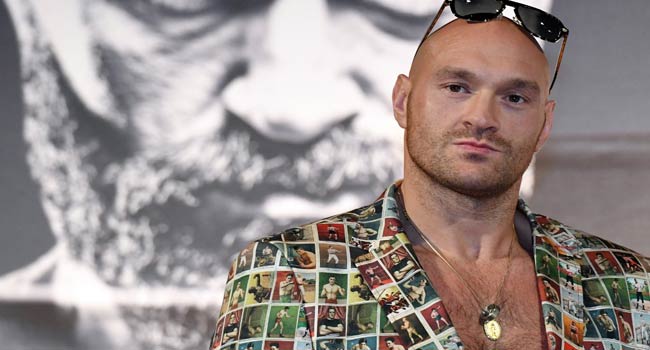 Tyson Fury believes former world champion Anthony Joshua is "finished" after the British heavyweight's shock defeat to Andy Ruiz Jr in New York.
Joshua lost his IBF, WBA and WBO titles on June 1 in one of the biggest upsets in the history of the division.
After the fight, Fury sent a message on Twitter that urged his fellow Briton to "rest up, recover, regroup and come again".
But this week he told BBC Sport: "When a man doesn't want to be there once, he will always do it and it's hard to come back from.
"It's been done many different times by many different fighters. He did it that night and I don't think he will come back from it. Finished. Ask any top trainer who has been around the sport a lifetime. When he got to the ring I saw he didn't want to be there."
Joshua, 29, whose defeat against Ruiz was the first of his career, had previously made Furyan offer to fight.
"Everybody thought that man could beat me," said Fury. "In what world could he ever beat me? What were people seeing?
"I don't know what people were looking at as I don't know in what world he could have beaten me."
Joshua's seventh-round stoppage by Ruiz came as a huge surprise as his opponent had been given barely one month's notice for the fight and weighed in at more than 20 pounds (nine kilograms) heavier than the Briton.
But unbeatenFury, who shed around 10 stone (64 kilograms) in a bid to re-establish himself in the heavyweight division after a battle with mental health and drugs issues, said body shape was no indicator of success.
"Physically Joshua could out-train everyone," said the 30-year-old, who is preparing to fight Germany's Tom Schwarz in Las Vegas on Saturday.
"He would break every heart monitor, has probably worn out every treadmill in the gym, smashes the bag, it's all very unimportant.
"Boxing isn't rocket science and today people are trying to make it a scientist thing. If you can fight you can fight, if you can't you can forget about it."
World Boxing Council heavyweight world champion Deontay Wilder said last month that he had lined up a highly anticipated rematch with Fury, to take place after Wilder's rematch with Luis Ortiz, which will reportedly take place in September.
Wilder andFuryfought to a draw in Los Angeles in December after an epic 12-round battle at the Staples Center.
"If I was a match-fit fighter and some fat man comes off drugs and alcohol and done that to me I'd never look at the sport again," said Fury.
"Does Deontay Wilder have anything to bother me? Nothing at all. I've been hurt 1,000 times but Wilder didn't hurt me once."
DOWNLOAD DAILY INFO MOBILE APP DIRECTLY FROM GOOGLE PLAYSTORE BY CLICKING HERE
I believe that a trusting attitude and a patient attitude go hand in hand. You see, when you let go and learn to trust God, it releases joy in your life. And when you trust God, you're able to be more patient. Patience is not just about waiting for something… it's about how you wait, or your attitude while waiting.
JOYCE MEYER
DOWNLOAD DAILY INFO MOBILE APP DIRECTLY FROM GOOGLE PLAYSTORE BY CLICKING HERE
No matter what has happened to you in the past or what is going on in your life right now, it has no power to keep you from having an amazingly good future if you will walk by faith in God. God loves you! He wants you to live with victory over sin so you can possess His promises for your life today!
JOYCE MEYER
DOWNLOAD DAILY INFO MOBILE APP DIRECTLY FROM GOOGLE PLAYSTORE BY CLICKING HERE
Get more stuff
Subscribe to our mailing list and get interesting stuff and updates to your email inbox.
Thank you for subscribing.
Something went wrong.